Marcel Gozali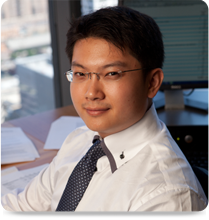 Director of Research
Marcel.Gozali@ullandinvestment.com
Experience
Marcel joined Ulland Investment Advisors in 2011 as an equity research analyst. Prior to joining Ulland, he held positions as an equity trader at a boutique hedge fund, and as a crude oil analyst at ConocoPhillips. At the hedge fund he focused on the trading of quantitative equity strategies and statistical research of high-frequency, long-short setups for equity derivatives. At ConocoPhillips, he was involved in the research of fundamental trading strategies and creation of risk management techniques.
Education
Marcel graduated magna cum laude from Carleton College with a B.A. in Economics. His undergraduate thesis was honored by the Federal Reserve Bank of Minneapolis, and was published by the Undergraduate Economic Review, a global research journal. Marcel is a Level III CFA candidate.
Interests
Outside of work, Marcel enjoys landscape and macro photography, and he plays the violin and its Chinese counterpart, the erhu.