James Ulland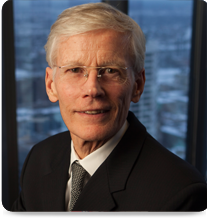 President
james.ulland@ullandinvestment.com
Experience
James Ulland founded Ulland Investment Advisors (UIA) in 1997. With more than 40 years of experience in finance Jim brings a unique perspective to UIA with respect to risk control, portfolio management, and finding niche market opportunities.
Jim served as Minnesota's chief regulator of securities, banks, and insurance companies under Gov. Carlson. Following this position, he was Executive Vice President for Portfolio Administration of an investment advisory firm where he focused on advanced portfolio management techniques and growth stock investments. Previously, Jim held executive positions at US Bank and Tokai Bank Ltd. of Japan.
Jim represented Duluth in the Minnesota House and Senate. He also served as the Minority Leader of the state Senate, toward the end of his time in elective office. During his time in the legislature, Jim taught corporate finance at the University of Minnesota-Duluth School of Business.
Jim has served on several boards, both non and for-profit. He was chairman of the Minnesota Orchestra's finance committee and served on the Orchestra's board for six years.
Education
Jim completed his undergraduate degree with a major in economics at Carleton College in Northfield, MN. He also holds an MBA from the University of Pennsylvania's Wharton School of Finance.